Dear ISUP members,
It is a great pleasure to announce that ISUP has reached an agreement with The American Journal of Surgical Pathology (AJSP) to become sponsoring society of the journal. ISUP will from now be mentioned together with the Arthur Purdy Stout and GI Societies on the cover of every issue of the journal, which shows the important position that ISUP has reached in pathology. This is a great step forward for our Society that has been taken largely thanks to a good deal of diplomacy from our Special Councillor of Archives, Brett Delahunt.
One of the reasons for accepting us as partners is that the manuscripts that have been produced by ISUP, mainly proceedings from our consensus meetings, have been remarkably successful and greatly contributed to the impact of AJSP. Below is a list of the downloads of AJSP manuscripts last year and as you can see we published 7 of the 10 most downloaded papers which is quite an achievement. I would like to take to opportunity to thank all the prominent members of ISUP who have produced these publications.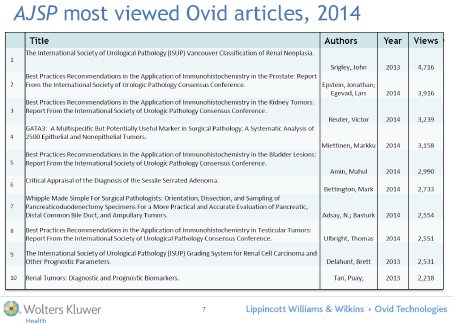 There are no costs associated with the status as sponsoring society and the only condition that has been requested is that we in the future consider publication of conference proceedings in AJSP which is of course only a privilege.
Lars Egevad
President of ISUP